Change your habits, Change your life!
I'm Helen Castillo, your Certified Holistic Health + Lifestyle Coach. I work with heart-centered, high-achieving professionals who are on the verge of burnout. I help them get back the energy they need for the most important things in their life.
IF YOU'RE READY TO STOP BEING ON THE VERGE OF BURNOUT ONCE AND FOR ALL
Most smart and passionate professionals actually struggle with stress, because there are SO MANY different pieces keeping them stuck (and then there's that feeling of being successful, but not enjoying their life to the fullest because they're overwhelmed!).
I know from first-hand experience, as well as coaching other high achievers, that there is NOT a one-size-fits-all answer.  Every person is different, every person has their own story, and every person has their own unique goals and challenges.
DOES THIS SOUND FAMILIAR?
You identify as high achieving or people pleasing and you know that the habits that come alongside those traits are draining you.
You're constantly overwhelmed and stressed—like no matter how hard you work, it feels like you're never getting enough done.
You need to increase your energy, yet you've been rolling through cycles of struggling to get yourself more fit.
You want to experience more joy and better health, but you've adopted unhealthy habits that keep you feeling less than.
You crave more freedom, and yet you tend to get yourself backed into corners filled with deadlines, expectations, and unexpected circumstances.
You sometimes say, "Yes" when you need to say, "No".  You are fed up with trying to be all things to all people and remember those days you felt in control.
You feel guilty when you relax because the moment you stop, you feel you're being lazy—there are so many other important things you "should" be doing.
You can't seem to keep self-care consistent even though you know you need it.
You've focused on gratitude and appreciation for what you do have, but you feel empty.
You know that the way you're living is unsustainable and you want a fulfilled life.
I get it, I've been there.  I know how to help you.
Being on the verge of burnout can be a lonely battle.
On the one hand, you feel like you should just resign yourself to feeling this way, on the other hand you know giving up is not what you're all about—and yet, you want to get your energy back for the most important things in your life—you're a go-getter, and you're not ready to quit.
Waking up each morning feeling more centered and grounded in your body than the evening before.
What it would be like if you were able to access energy or calm as needed when you did your work or lived your life.
Feeling recharged and energized by doing (more of) what you love.
Having higher self-esteem, increased empathy, and more resilience.
Being able to trade the to-do list that controls you for a calendar that creates space for your life.
Spending more quality time with the people you love.
Receiving compliments from colleagues, friends, and family as they ask you what on earth you've been up to!
You don't need to continue to struggle—you need another lifestyle.
You don't need to suffer in silence, you need accountability, support, and a system that works.
When you decide to work with a trained coach, you get an entire team, rolled into a single individual.
This "team" includes an advocate, cheerleader, partner, sounding board, and ultimately, someone who will help hold you accountable for the transformation you are undertaking.
That's the magic combination, and working with me as your coach provides all of this and more.
Invest in your relationship with yourself.
We all have a tendency to put others first, but in doing so, we can sometimes neglect our relationship with ourselves.
If you can learn to manage your time, prioritize what's important and focus on making progress toward your goals—then you're on the right path to spending less time doing work and more time living the life you want.
Let me be your advocate and show you a kinder, gentler way to treat the most important person in your life.
— What My Clients are Saying —
…I am generally happier and better equipped to deal with my everyday challenges.  I now have some tools that I can employ when difficult situations pop up and I can handle them with grace and stability.  I feel better physically and emotionally, and I feel more in control of my day-to-day life.  People around me have noticed a difference.  Thank you, Helen, for all that you've done to make my life better.
—Robin M.
I feel physically better than I have in a very long time. …Helen has taught me a great deal about creatively sticking to the tasks at hand and achieving what I want no matter how long the effort takes.  She has been positive and encouraging.  The tools she has shared with me and the moral support have been very important.  I feel physically better than I have in a very long time, and I am once again participating in activities with enthusiasm and enjoyment.
—Harriet K.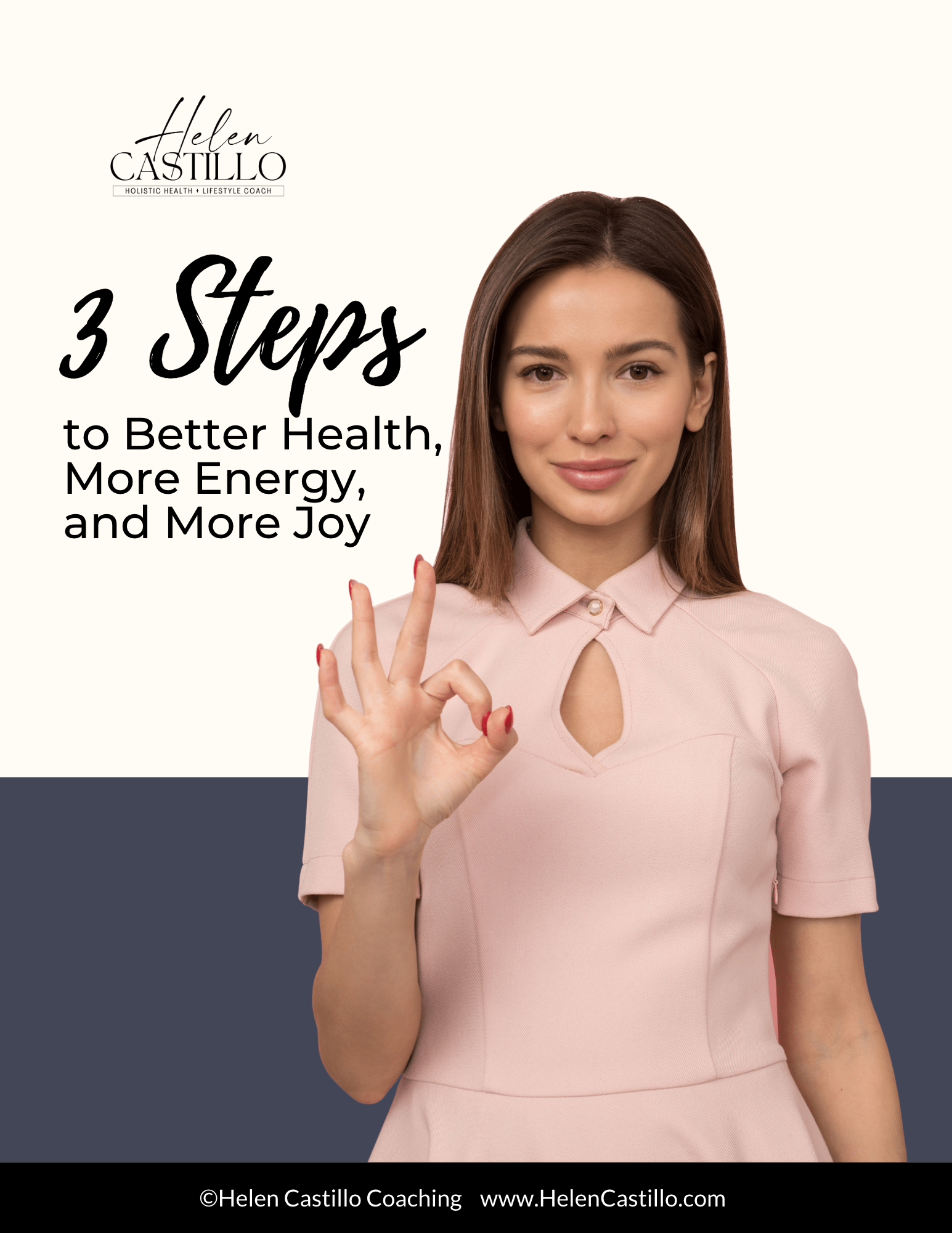 Subscribe to receive my "3 Steps to Better Health, More Energy, and More Joy" guide and exclusive content, and emails—things I don't share anywhere else.